Agent 355
Concept by Preston Max Allen and Jessica Kahkoska
Music, Lyrics, and Book by Preston Max Allen
Book and Dramaturgy by Jessica Kahkoska
An all-female, punk-rock retelling of the unknown woman that helped America's first Culper Spy Ring "outwit them all" in the Revolutionary War. Reimagined by all-female/TNGC band and challenging a history written by men, Agent 355 explores the loyalty, heritage, and courage of six real Revolutionary women whose stories, sacrifices, and secrets shaped the nation.
Agent 355 was originally developed through the generous support of the Marion International Fellowship for the Visual and Performing Arts Fund of the Fredonia College Foundation, State University of New York at Fredonia.
In 2018, Agent 355 was the recipient of an "At The Table" Residency with Village Theatre and a Musical Theatre Factory Developmental Residency at Playwrights Horizons.
In June 2019, Agent 355 was selected for a Roundabout Theatre Company Space Jam Residency, in partnership with Bucks County Playhouse.
In August 2019, Agent 355 will appear in Chautauqua Theater Company's 2019 Season as a New Play Workshop, funded by the Roe Green Foundation.
Agent 355 was additionally selected for a 2019 American Antiquarian Society Fellowship for Creative and Performing Artists and Writers.
Press:
Celebrate Women's History Month with MTF Videos of Agent 355
November 2018 Developmental Residency at Musical Theatre Factory
September 2018: Marion Fellows Lecture at SUNY Fredonia
May 2018 Concert at (l)PR
Marion Fellowship in Chautauquan Daily
Marion Fellowship Awarded in May 2017
Marion International Fellowship for the Visual and Performing Arts

Conceived by Michael Bello and Jessica Kahkoska
Directed by Michael Bello
Dramaturgy / Letter Curation by Jessica Kahkoska
Music Direction by Patrick Sulken
The act of writing a letter has been a way for Americans to share their most personal hopes, concerns, and dreams with the occupants of our nation's highest office since its founding.
"Letters to the President" reimagines an archival canon of letters through new music by multiple musical theatre composers. Each new song is inspired by an actual letter to a U.S. president curated from the National Archives and private collections from across the country. Spanning topics including western expansion, World Wars I and II, space exploration, and the civil rights movement, Letters to the President offers a powerful look at the American dream. The evening will consist of the composers' songs performed alongside readings of the letters that inspired them.
"Letters to the President" features songs by Alexander Sage Oyen, Anna K. Jacobs, Ben Wexler, Dawn Avery, Elliah Heifetz, Emily Gardner Xu Hall, The Lobbyists, Madeline Myers, Mark Sonnenblick, Naomi Matlow & Teresa Lotz, Nick Blaemire, Preston Max Allen, Rona Siddiqui, Ronvé O'Daniel & Jevares Myrick, Simone Allen, Will Van Dyke & Jeff Talbot, and Zack Zadek.
All Photos by Marget Long, The Cooper Union, 2019

Press:
Andrew Chappelle, Whitney Bashor And More Join Letters to the President At Cooper Union
Letters to the President at Cooper Union Announces Composer Line-Up
Broadwayworld.com: Letters to the President Comes to Cooper Union on April 8
AM New York: Musicians to share Americans' 'Letters to the President' at The Cooper Union
Nia
Adaptation by Jessica Kahkoska
Directed by Sarah Wansley
With Music and Lyrics by Tommy Wansley
This 90-minute, musical adaptation of Iphigenia et Aulis reimagines Euripedes' controversial play in a rural Applachian town governed by fundamental religious rules and a blue collar military tradition.
Was there indeed a miracle at Aulis, or just hysteria and violence? What story will we choose to believe?
Nia is the recipient of a 2018 FIRST STAGE residency at the Drama League.
Untitled crypto-judaism project
By Jessica Kahkoska
Colorado's San Luis Valley is world-renowned for its beauty, but this famous Southwestern landscape may be harboring some secrets of its own. One in particular connects the valley to a clandestine Sephardic Jewish heritage and the 15th-century Exodus from the Spanish Inquisition … but is it really a secret, and if so, to whom? This new play with music sings the complicated legacy of Crypto-Judaism in the Southwest, illuminating an unlikely, alpine tale of secrecy, faith, fear and how we pass on culture when written records are too dangerous to keep. Driven by a community-engaged, Colorado-based research process, this piece explores if our identities and rituals rise from earth and mountains where we spend our days, are inherited in the ancient stories of our blood, or are learned in the motions of mothers at sunset and overheard songs of grandparents.
THE UNTITLED CRYPTO-JUDAISM PROJECT received the 2019 Denver Center for the Performing Arts (DCPA) "Powered By Off-Center" Residency.
In May 2019, the project was the subject of a talk and conversation with Dr. Seth Ward at the 2019 Western Jewish Studies Association Conference, titled "Constructing Hybrid Jewish and Non-Jewish Identities."
Press:
Pueblo Chieftain: Arts Center Study Focuses on Crypto-Jews in the San Luis Valley
5280 Magazine, Best Colorado Events, April 2019
DCPA News Desk: 'Powered by Off-Center' is Empowering Artists' Dreams
DCPA News Desk: DCPA Selects First Two Projects for New Artist Residency Program
Broadwayworld.com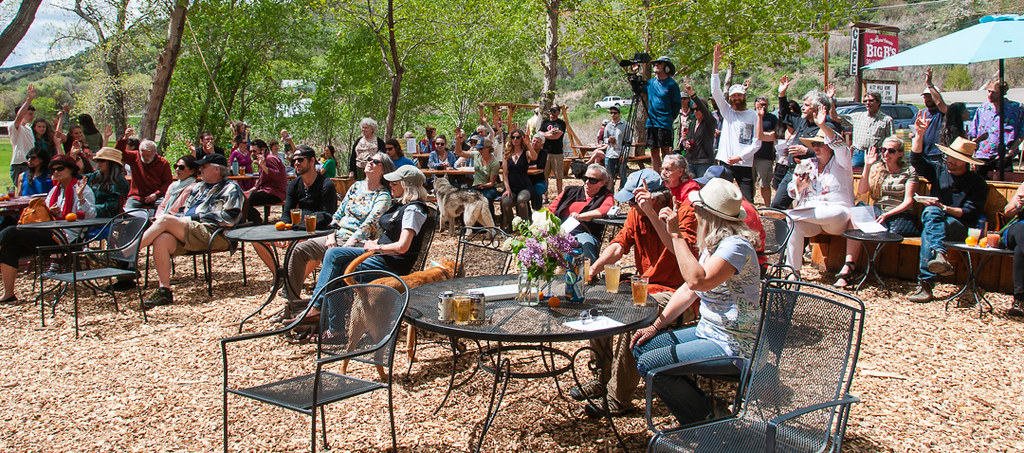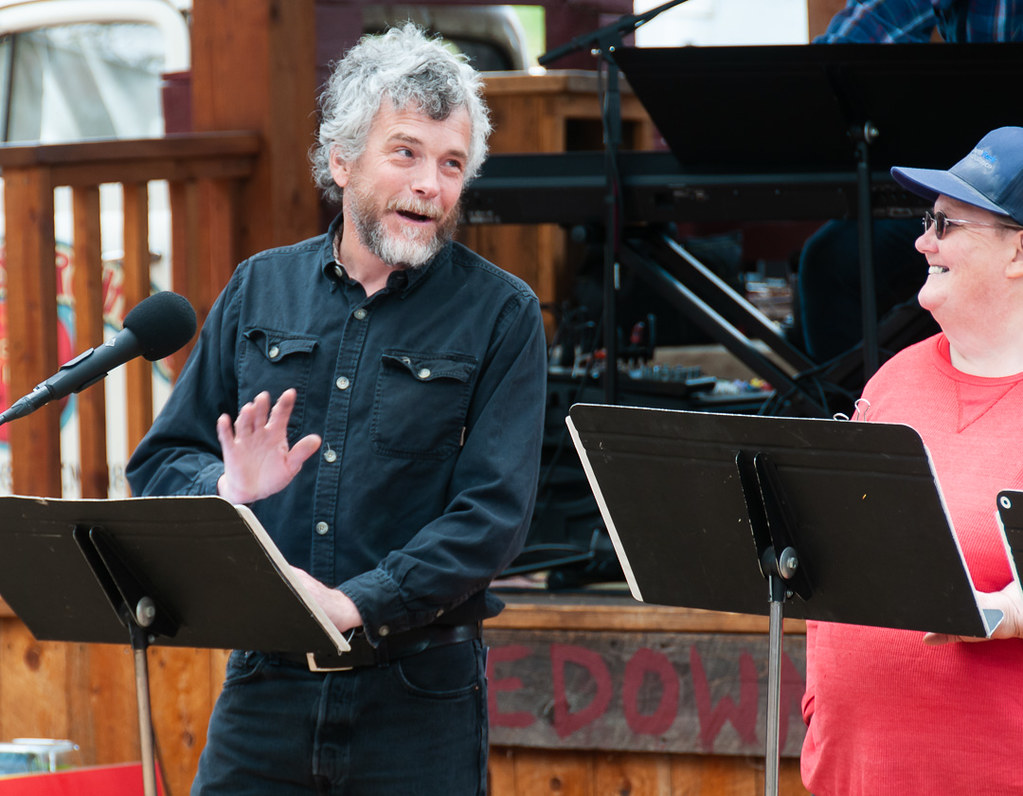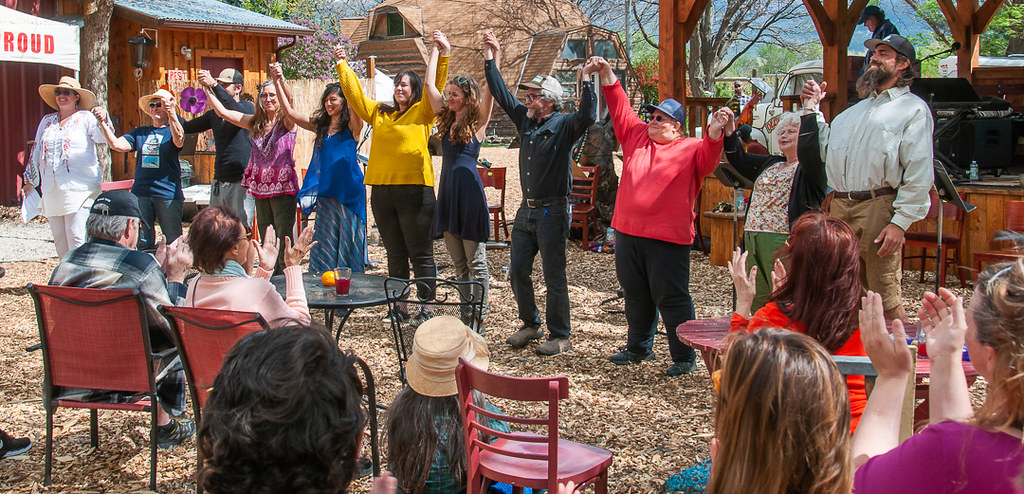 Above: Wild Home in Performance: April 19, 2019 at Delicious Orchards, Hotchkiss, CO. Performance photos by Jim Brett
Below: Wild Home Community Table Read and Talkback, December 2018, Paonia, Colorado
Discount Ghost Stories
Concept and Book by Jessica Kahkoska and Alexander Sage Oyen
Music and Lyrics by Alexander Sage Oyen
Additional/ Adapted Text and Archival Research by Jessica Kahkoska
Developed with and Directed by Austin Regan
Discount Ghost Stories is a rock theatre band that conceptualizes dark American legends into multimedia concerts and albums. Discount Ghost Stories brings the "tall tales around the campfire" tradition to the 21st century, combining rock music, archival research, dark Americana lore, and immersive theatre into an electrifying rock séance with an irreverent vintage feel.
Discount Ghost Stories has been developed and presented at the American Musical Theatre Project (AMTP) at Northwestern University, Barn Arts Collective, Ars Nova ANT FEST, and Joe's Pub at the Public Theatre. Upcoming: World Premiere Production at Local Theater Company in June 2019